In the modern world, with the spread of technology and easy access to the Internet, most people prefer to shop online. Supply and demand are directly related. Normally, when most people shop online, online shopping platforms and online stores are becoming more and more popular. On the one hand, as a person who intends to buy online, definitely, your first priority would be the reputation and history of a company. On the other hand, if you want to start an online store, you need customers and visitors. eBay and Amazon are two e-commerce giants and their reputation has become global. Which one do you choose in the Amazon VS eBay competition? In this article, we will review the advantages and disadvantages of each of these platforms and conclude about the superiority of one of them.
Why should we compare Amazon VS eBay?
Today, most small businesses tend to offer their goods and services in cyberspace and the Internet. eBay and Amazon, with their long history, millions of online customers, and 24-hour support, are great platforms for these businesses. Although the competition between Amazon VS eBay is fierce and challenging, they have fundamental differences. These differences may be good for one business and bad for another. That is why it is so important to compare them.
The first and most important difference between Amazon VS eBay
Perhaps the main difference between Amazon VS eBay is how you can sell your products. On eBay, you can sell your products at a fixed price or in the form of an auction. There is no auction on Amazon and sellers can only sell all their products at a fixed price. The next difference, which is much more important, is the type of competition. The competition on eBay is fairer than on Amazon. eBay is merely a sales intermediary site. The company itself has no proprietary products for sale. But Amazon's main priority is to sell its products. In other words, if the product you are going to sell is similar to Amazon products, you have to compete with this company to sell your products.
Which site will benefit me the most?
Your profit from selling products depends on two factors. The first factor is the number of your customers. How many customers you have per month has a big impact on your profits. If we want to examine the customers of these two sites, we will not reach very convincing results. Research has shown that Amazon customers are basically richer people. But this does not prove anything and can not affect the number of customers.
The second factor is how the goods are priced. If you are going to use the eBay auction system, you will certainly not make much profit. It is better to use a fixed price system that is active on both websites. What matters is the pricing, the type of product, and the reputation of your brand. For example, if the price of a product is $ 15, if your brand is very well known, you can set the price at $ 20 and you will get more profit. On the other hand, if the product you are selling is very special and rare, you can set the price yourself. The commission received by eBay from each sale is 10% and Amazon 15%. Of course, you should not forget about shipping costs. If you have any questions about shipping cost from China, you can get help from the experts of the ddpch trading company.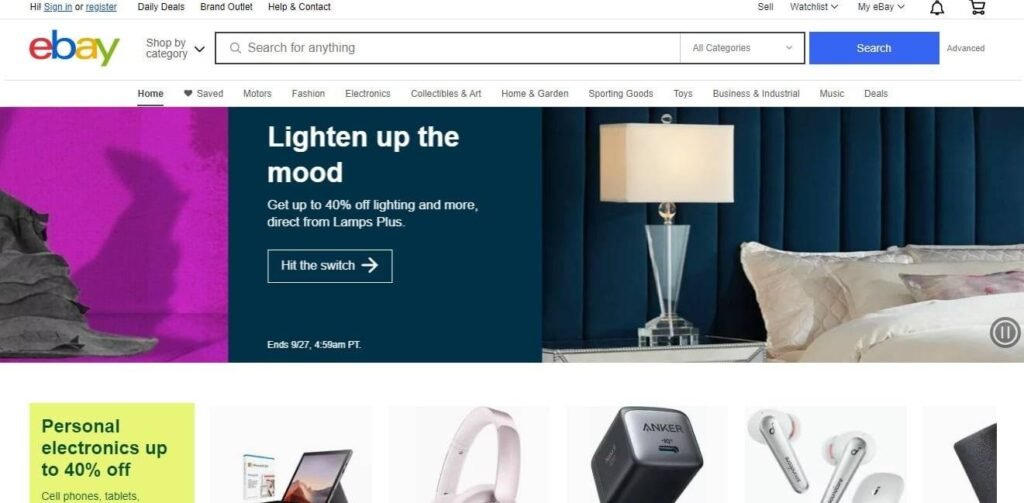 Restrictions and prohibitions
One of the essential points that you must pay attention to before choosing one of these sites is the prohibitions and restrictions. Each site has its own categories. For example, Amazon has 40 different categories for its products. Each of these sites has a series of prohibited products according to the rules and regulations and has restrictions for a number of categories. These restrictions are not the same and are different on each site. It is a good idea to match your products with the list of restrictions on Amazon VS eBay before opening an account. In addition, to pay attention to all the restrictions, you should look for a reliable company to transport your products. ddp's shipping service from china is a safe option for you.
Problems and troubles in selling products
The process of selling products has its own troubles. The process of paying on eBay is much easier if we want to consider financial issues. When one of your products is sold, the proceeds from the sale will be transferred to the seller's account immediately. But Amazon keeps the proceeds of the sale for 14 days and then transfers them into the seller's account.
Sellers are responsible for posting products on eBay. But there is an FBA service on Amazon. FBA service has many advantages and saves time. In this service, Amazon is responsible for the storage, packaging, and shipping of products. If you are planning to buy from these companies and you are looking to ship your products, you can use the specialized services of ddpch trading company in the field of shipping from China.
Customer loyalty and trust in Amazon VS eBay
Due to the lack of strict rules on eBay, a series of scams have already occurred on this site. These scams have damaged the company's reputation. Amazon, on the other hand, has very strict rules and does its best to ensure the eligibility of each seller. In general, buyers have more trust in Amazon. Statistics also show that Amazon customers are more loyal than eBay. You may not have enough time and you want to reach your products as soon as possible. In this case, you can use ddpch services for express shipping from China.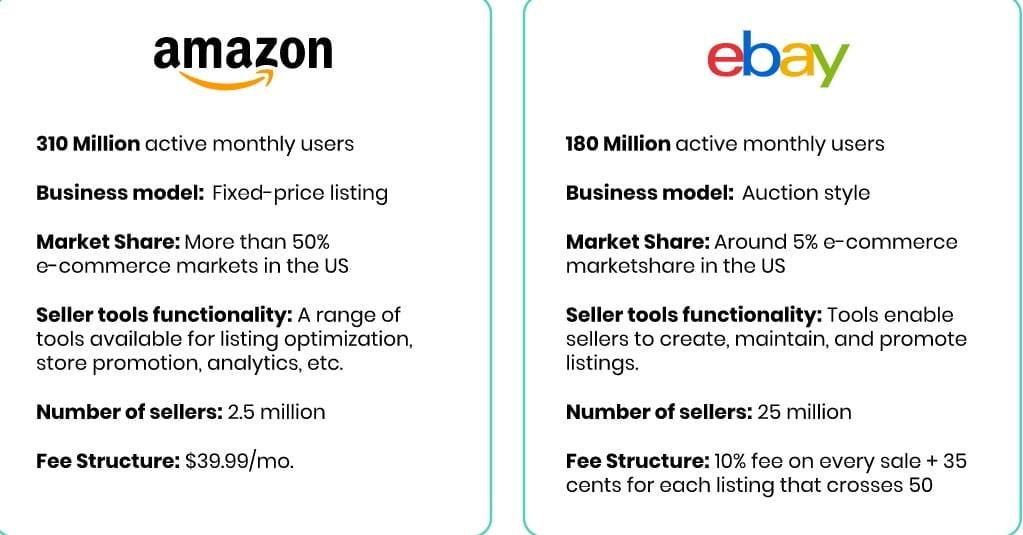 The last word
Amazon VS eBay competition is fierce. It is not easy to choose one of these companies to sell or buy products. We tried to provide complete information about the advantages and disadvantages of these two companies. Make the right choice for your products and priorities.
Thanks for reading.
What are the biggest e-commerce companies?
Amazon and eBay are the largest companies in e-commerce.
Which site has the most visitors?
Amazon and eBay are international sites and both attract millions of visitors from all around the world every month.
Which company can I trust?
Although both companies are very reputable, Amazon rules are stricter. That's why most customers trust Amazon more.
Which company has the highest sales commission?
eBay receives 10% commission and Amazon 15% commission from sellers for each sell.
What is the FBA service?
Amazon has launched the FBA service. Through this service, the process of storage, packaging, and delivery of products is the responsibility of the company.