Today, with the spread of technology and the Internet, e-commerce companies have become the biggest competitors for traditional markets. In fact, even the largest factories and manufacturers today have to introduce their products to customers via the Internet in order to maintain their revenue and not lag behind other competitors. There are many sites and applications for advertising, introducing, and selling the product. One of the most well-known and valid e-commerce sites is Taobao. Taobao is a Chinese site. Taobao is a Chinese online shopping platform. It is headquartered in China and was founded by Alibaba. It is ranked as the eighth most-visited website in 2021. In the following, we will introduce Taobao in full, and explain how to buy directly from China through this site. If you have questions about shipping from China, you can get help from the consultants of the ddpch trading company.
The most important problem of Taobao
Most products on the site are Chinese. Chinese products have high quality and reasonable prices. This is one of the advantages of Taobao. But the most important drawback of this site is its inflexibility. The designers of the site have considered Chinese as the default language, and have not considered any other language for it. This is exactly why many customers get confused and stop shopping after entering the main page of the site. But there is no need to worry at all. If you log in with Google Chrome, you can use Google Translator and put the second language on English, or any other language and translate all the content of the site into the language you want. In this way, the problem of language knowledge will be solved.
How to use Google chrome translator?
We want to help you to buy the product you need from China. We provide you with all the information you need, from shipping costs from China to how to use Chinese sites. If you are not familiar with how Chrome Translator works, read this section carefully. First, log in to Chrome and click on the three-dot icon at the top of the page. Go to Settings and then select the Language from the Advanced menu. Finally, turn the offer to translate pages that aren't in a language you read the check box on. Now, you must be able to see the translation icon. If you want to use Taobao mobile app, you must be fluent in Chinese. The translation is only possible in the site version and you can not translate the content of the app.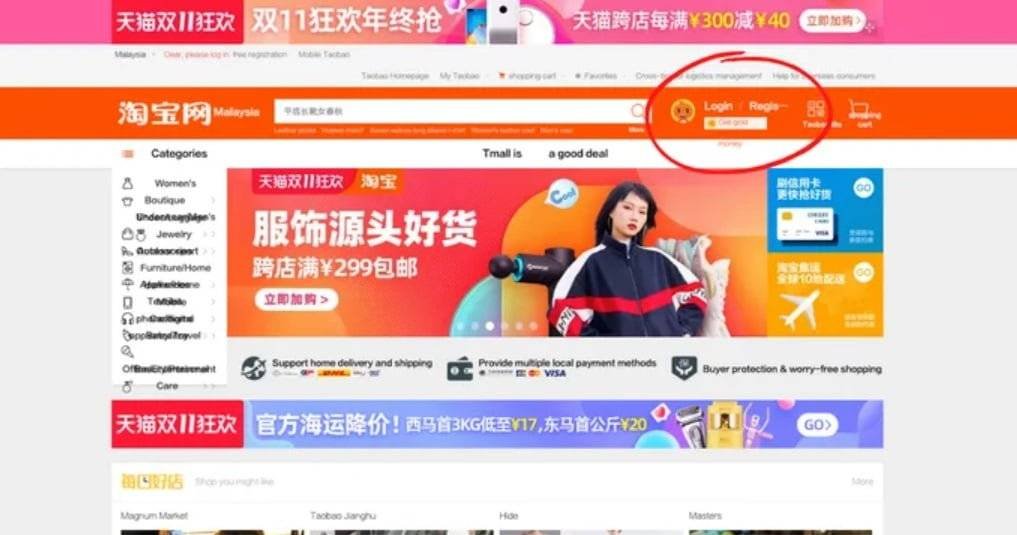 Register in Taobao
Registering an account on Taobao is a piece of cake. Just select the login/register a new account on the right-hand side of the website. Note that you can use the English version of the registration page. Then you must enter your phone number. After that, a verification code will be sent to your phone number. After submitting the OPT, your account will be activated. Once you successfully register an account, you just have to add your shipping address. In order to add your shipping address, you must go to your account settings. Although you can edit your address whenever you want, it is better to be careful in entering information.
It's time to shop
After logging in and completing your information, you can make a purchase. Just search for the phrase you are looking for in Taobao Search Bar. Although the main language of the site is Chinese, if you enter the phrase you want in English, you will be shown the correct results. Of course, you can translate the phrase into Chinese via Google Translate. Also, if you have a photo of the product, you can upload it to the site. On the Taobao site, you can search for photos instead of text.
Find the product you want
Now between the results that are displayed, you can find the product you want. You need to consider things like shipping cost, shipping time, and product price. Before paying for the products, be sure to pay attention to the comments and points of other users to the seller. Comments and ratings can show the quality of the product and how the seller treats and responds. If you do not intend to buy a product but would like to buy it later, you can save the product or add it to your cart and buy it later.
Pay for the products
Once you have selected all your products, go to your shopping cart. In the shopping cart, you can delete or confirm the products you want. Note that the price shown on each product does not include shipping costs. Then you have to choose a method for shipping. You can choose air freight from China for cargo lighter than 25 kg or sea freight from China for cargo heavier than 25 kg. Finally, pay the required amount and wait for your order to arrive.
An explanation for people who are buying from Taobao for the first time
Although the price of Chinese goods is very cheap and beautiful Chinese products are very tempting, making a mistake while shopping can be really destructive. If this is your first time shopping in Taobao, here are some tips to help you get started. First of all, Control yourself and do not spend a lot of money. Choose the right shipping method. Buy from reputable suppressors. Finally, if you find it difficult to buy directly from Taobao, you can get help from a shipping agent in China. If you have any questions about shipping from China, you can get help from the consultants of the ddpch trading company.
Last word
In this article, we introduced Taobao E-Commerce Company. In addition, we explained how to register, and buy in Taobao. Taobao is one of the best and most reputable e-commerce companies. If you have questions about shipping from China, you can get help from ddpch trading company.
Thanks for reading
Which company does Taobao belong to?
Alibaba has established Taobao.
What account should be used to pay from Taobao?
You have to pay from the AliPay account.
What is the main language of Taobao?
Its main language is Chinese.
Is it possible to search in Taobao through photos?
Yes, you can search by photo.
How many shipping methods are there in Taobao?
There are two methods, air freight, and sea freight.