Due to the large population and cheap labor, Chinese factories are among the most powerful producers in the world. Chinese goods are of interest to traders due to their reasonable prices and high quality. If you are planning to buy a product for your business, Chinese goods are a great option. But the important question is how to buy from China. Do you have to travel to China to buy? Definitely, not. Today, through the Internet and social networks, you can easily buy from international manufacturers, and you do not need to travel to China. One way to buy from China is to get help from shipping agents in China. One of the most reputable e-commerce sites is 1688. 1688 is a reputable site in the field of e-commerce. If you have questions about shipping from China, you can get help from the consultants of the ddpch trading company.
The language of the 1688 site is Chinese, and all vendors are Chinese. If you are not fluent in Chinese, it will be almost impossible to buy from this site. In addition, the shipping process is very complex and difficult. If you are unfamiliar with the basics of shipping, your job will be more difficult. But do not worry. You can easily get help from 1688 agents. Just send the link of the product you want to one of the agents and they will do A-Z things for you. In this article, we will explain how to communicate with agents, sign contracts, and buy from China.
What is 1688?
1688.com is the largest wholesale, and sourcing website in China. All suppliers need to get Government business licenses. All suppliers will also need to pay an annual membership fee to express their commitment for partnership. So, sellers are real and not scammers. 1688 has been founded by Alibaba group. 1688. com is only for China's domestic market, and mainly in B2B, B2C, wholesale and manufacturing of products.
The most trusted agents
As we said, if you want to work directly with 1688, you will have a lot of problems. First of all, most suppliers do not speak English. Secondly, to buy from this website, all payments must be in Chinese currency and you can't pay throw USD. Agents are like a bridge between buyer and seller. They receive the buyer's order and prepare it. We want to introduce you to the most reputable agents of this website.
1-Chinapurchasingagent
Chinapurchasingagent is one of the most reliable agents in China. They can be your agents in China and have over 10 years of agency experience in this business. They purchase products in China and also accept USD currency to exchange for RMB before shipping. Once they prepare your order, they will ship it to your address. They are one of the best Chinese partners available in China. Working with them will save you time and cost. Their business only charges a 3% service fee.
2-Supplyia
Supplyia helps people in buying goods from 1688. Their main goal is to provide high-quality, and reliable services at a reasonable cost. They provide you an original service that includes everything from purchasing to product check and from warehouse storage to order consolidation, repacking, and then global shipping. If you can't trust easily to pay a considerable amount of money for a large order, they can provide you with a sample of products. They provide you with samples and ship them to your address.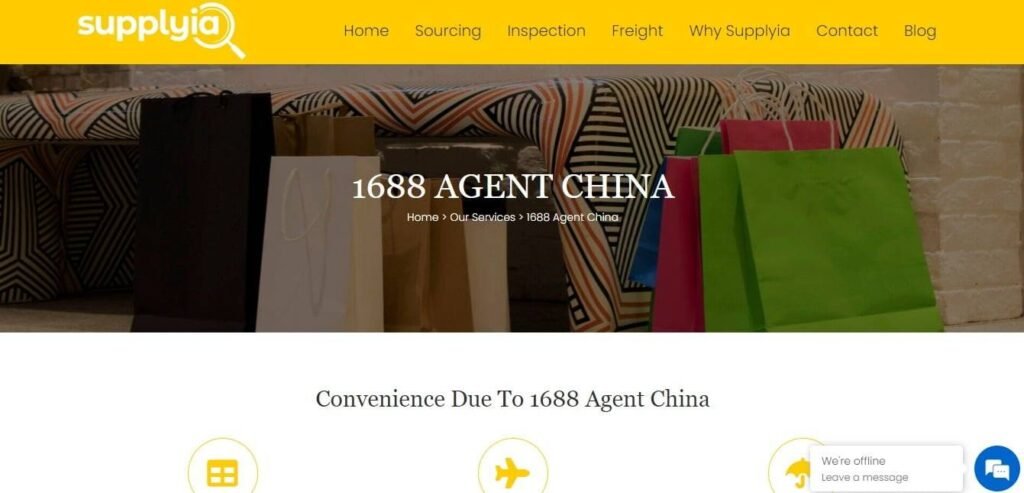 3-Leelinesourcing
Leelinesourcing fulfills your orders in the best, and fastest way. The only thing that you must do is find your desired products, and simply send the link of the product to the agent. They will do the rest of the process for you! Also, if you are worried about the quality of products, their quality control team inspects each product to ensure it is in good condition. They take care of your profit. They combine different orders into a single cargo. It will save up to 70% in shipping costs. They ship your orders according to your desired shipping method. They can ship by either Air Express, Air Freight from China, and even Sea Freight from China.
4-Yayaka
Yayaka is another reputable agent in China. One of the special services of this company is free warehousing. After purchasing the product you want, they keep it in stock for free and then send it to the address you want overseas. Also, if you do not have an Ali pay account or cannot pay the order amount in Chinese Yuan, you can ask the company to pay the amount for you. You can buy from this agent in USD, or any other cash.
5-CNXtrans
CNXtrans is a Chinese agent offering purchasing, logistics, and shipping. They offer door-to-door international shipping from China to more than 200 countries worldwide via air, rail, and sea. CNXtrans' storage of goods is free. Hence you can take your time to buy from as many 1688.com stores. CNXtrans does not charge you for the packaging of goods at the warehouse. They use a smaller package for certain items or simply combine all the items from different packages into one cargo. So, they minimize your volumetric weight.
Last word
If you are going to buy from the 1688 website, you should choose a reliable agent to do the shopping and shipping for you. In this article, we have introduced some of the most reputable Chinese agents. Also, we explain how to work with Chinese agents in a very simple way. You just need to send the link of your desired product to the agent. They will do the rest of it for you. If you have any questions about shipping costs from China, you can get help from the consultants of the ddpch trading company.
Thanks for reading
What is site 1688.com?
1688.com is an e-commerce website.
Who owns this company?
1688.com Launched by Alibaba Company.
Who are the agents of 1688?
1688 Agents are a bridge between sellers and buyers.
Why should we get help from agents?
Because the main language of the site is Chinese and it is very difficult to buy directly from this website.
Who should I ask my questions about shipping from China?
You can ask your questions to the consultants of the ddpch trading company.