When importing from China, there are a number of marketplaces we hear the names of everywhere. Alibaba, Amazon, Taobao, and etc. In this article, we want to focus on Taobao for shopping from China. Read on to know Why people use Taobao for shopping from China?
What is Taobao?
Taobao is a leading online shopping website established in 2003 by Jack Ma's Alibaba Company. Taobao is a website primarily designed for consumer-to-consumer shopping. It supports young entrepreneurs and small businesses to interact with customers in the Greater China Area that includes Mainland China, Hong Kong, Macau, and Taiwan.
The websites also support cross-research products to help customers make their buying decisions, as they have the details, feedback, concerns, and ratings of the seller. One of Taobao's dreams is Chinese self-empowerment, and knowing the desires of the Chinese customer.
Further Reading: 20 shipping acronyms all shippers should know
Now that we know what is Taobao, let us focus on Why people use Taobao for shopping from China?
Why people use Taobao for shopping from China?
Taobao dominates Chinese e-commerce which plays a key role in their achievements. Taobao is considered one of the best small business options, as they can feed off the strong platform of Taobao. Therefore it controls half the retail market, it is big enough to dominate the competition.
How are people attracted to Taobao for shopping from China?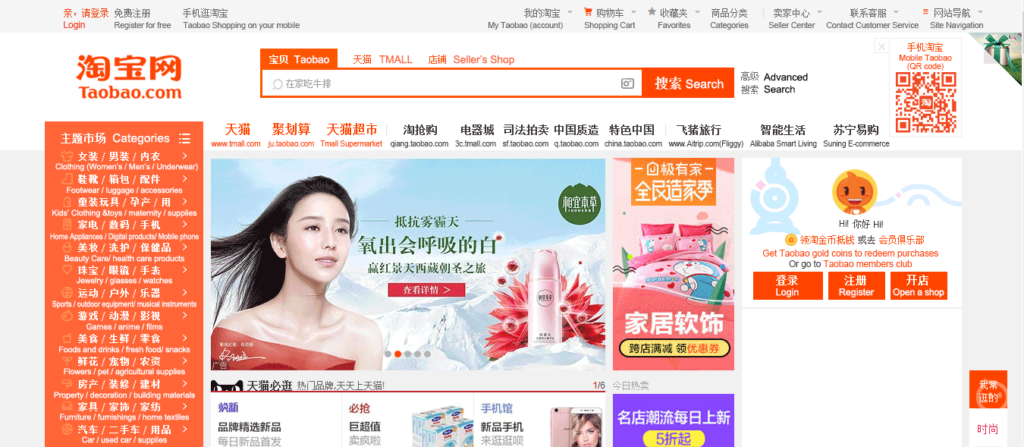 Striking website
Taobao is a leading online shopping website that produces a sense of customer anticipation. The Taobao website has vibrant colors, happy faces images, and innovative design. These features are very appealing to customers and therefore help to lock in the attention of the consumer.
Attractive deals
Sales of Taobao for shopping from China help to heighten customer curiosity about online shopping. Such deals encourage customers to respond quickly by creating a sense of urgency through offers.
Further Reading: Why Gold suppliers on Alibaba are Important? | A buyer's guide
The most extreme offer on Taobao is "instant kill" where, due to huge discounts, very few units are up for sale at a crazy low price. Such deals usually last only for a couple of hours as the offers are so compelling that the sellers sell out quickly.
Live stream
The recent addition of a live stream has further improved user convenience when shopping. Users of Taobao can watch streams of lives where KOLs and celebrities interact directly with a product or highlight its features. Such live streams also include a connection where the users can purchase the item directly. From watching the live stream to shopping it takes only a few clicks.
Taobao is a leading website for online shopping and Taobao also recognizes that in a market as big as China, competition is fierce. Taobao understands that in order to fight rivalry with its close rivals like JD.com, it must continuously evolve and carve a niche out.
It's similar to Amazon but for customers, it's much bigger and more exciting. To further draw customer interest, Taobao is full of colorful images, interesting videos, and amusing memes.
In addition, Taobao makes a clear statement that it is here to sell. Consumers can have their preferences adjusted accordingly.